After a terribly long journey by many who have since been smeared, ridiculed and even incarcerated – the evidence that Barack Hussein Obama is both a usurper and a criminal has been entered as evidence into a United States court of law.  The country owes a debt of gratitude to attorney Orly Taitz for the persistence, tenacity and personal humiliation she has endured to succeed in this accomplishment.
On one hand, it's only a tiny mustard seed on the scales of justice and in and of itself means nothing.  On the other hand, it is monumental not only in what it could mean to start to turn the tide of public opinion in the matter of his eligibility to be President, but in illuminating the light of truth in the midst of extreme corruption in media and government.
For those who didn't know – Obama's lawyers tried to get it kicked out, and then didn't show.  Over the objection OF THE JUDGE.  I'm no lawyer, but I hear judges are funny when ANYONE questions their authority.
Taitz is the LEAST likely hero as is often the case in near-biblical tales, in her legal skill, reputation and even personal citizenship and pedigree.  But, she got entered into evidence today:
Expert testimony that the White House published a falsified government document (Hawaii Birth Certificate).
Expert testimony and evidence that by Obama's own admission his father was not a US Citizen including INS documents
Expert legal testimony that the founders intended the President to be a natural born citizen by two US citizens and confirmed in Minor vs Happersett.
Private Investigation evidence that Obama currently uses a fraudulent Social Security Number
Evidence that the Democrat National Convention never certified the constitutional qualification for Obama to be President as the RNC did.
The most striking is the all for Hawaii to turn over the original birth certificate and if it is concluded that Obama is NOT a US Citizen, that he be deported immediately.
The full recount of the day here.
Partial excerpt follows:
The following is a nutshell account of the proceedings.
Promptly at 9am  EST, all attorneys involved in the Obama Georgia eligibility case were called to the Judge's chambers. This was indeed a very interesting beginning to this long awaited and important case.
The case revolved around the Natural Born clause of the Constitution and whether or not Obama qualifies under it to serve. More to the point, if found ineligible, Obama's name would not appear on the 2012 ballot in Georgia.
Obama himself, who had been subpoenaed to appear, of course was nowhere near Georgia. Instead, Obama was on a campaign swing appearing in Las Vegas and in Colorado ignoring the court in Georgia.
Over the last several weeks, Obama's attorney, Michael Jablonski, had attempted several tactics to keep this case from moving forward. He first tried to have it dismissed, then argued that it was irrelevant to Obama. After that, Jablonski argued that a state could not, under the law, determine who would or would not be on a ballot and later, that Obama was simply too busy with the duties of office to appear.
After all these arguments were dispatched by the Georgia Court, Jablonski, in desperation, wrote to the Georgia Secretary of State attempting to place Obama above the law and declared that the case was not to he heard and neither he nor his client would participate.
Secretary of State, Brian Kemp, fired back a letter hours later telling Jablonski he was free to abandon the case and not participate but that he would do so at his and his clients peril.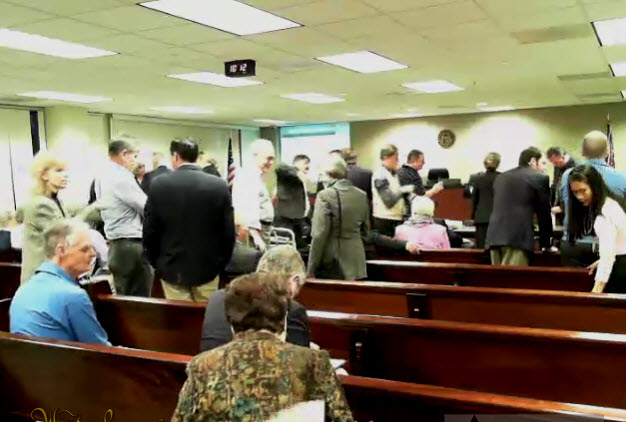 Game on.
5 minutes.
10 minutes.
15 minutes with the attorneys in the judge's chambers.
20 minutes.
It appears Jablonski is not in attendance as the attorneys return, all go to the plaintiff table 24 minutes after meeting in the judge's chambers.
Has Obama's attorney made good on his stated threat not to participate? Is he directly ignoring the court's subpoena? Is he placing Obama above the law? It seems so. Were you or I subpoenaed to appear in court, would we or our attorney be allowed such action or, non action?
Certainly not.
Court is called to order.
Obama's birth certificate is entered into evidence.
Obama's father's place of birth, Kenya East Africa is entered into evidence.
Pages 214 and 215 from Obama's book, "Dreams from My Father" entered into evidence. Highlighted. This is where Obama indicates that, in 1966 or 1967 that his father's history is mentioned. It states that his father's passport had been revoked and he was unable to leave Kenya.
Continued here. It is a must read.