UPDATE:  I just listened to the show myself and nearly gagged.  (I'm terrible.)  But a good part of it is due to the fact I'm trying to "run the board", monitor the chat room and can't focus JUST on the show and the segments we've laid out.
YOU can help.  PolitiJim Radio is looking for volunteers who can help cue the music, handle callers, run the chat room and even help produce the show.  If you are interested contact me via the contact page on the top most menu.
---
We finished our second "test" of PolitiJim Radio today and my deep and sincere thanks to Justin Gray of Justin.FM (@DryCnty on Twitter) for his co-hosting excellence.
As usual, 30 minutes was too short and PolitiJim Radio will be expanding to 2 hours next week.  Unfortunately we didn't record the SECOND 1/2 hour which was quite amazing.  Essentially – we are playing until the buzzer.
What else you missed:
Chicago Cubs are now 3-6 but the Chicago Bulls have the best record in the NBA.  (A lot of good it will do since Obama will predict the Bulls winning the Championship and thus sealing the victory for either the Oklahoma Thunder or – God forbid – the Miami in Heat).
The conservative media are cowards, acting like the race is all over.   Daily Caller is complaining about a few thousand bucks for Secret Service protection and the supposed "Constitutional conservative," Mark Levin – is calling trying to stop a man that single handedly implemented gay marriage, socialized medicine and Cap and Trade in Massachusetts "deranged."   Really, Levin?
While Romney is up to an all time approval of 69% among Republicans, he has dropped 20 points with White Women during the campaign.
Although he leads Obama by a few points, no one is taking into account the planned Obama vote fraud that could more than erase a 10 point lead.
Conservative media falls for the distractions by Obama (ie, Contraception, Hillary Rosen) and clearly show they are willing to give up on our country and Constitutional government.
Nearly half do NOT want Paul and Gingrich to get out.
Additional info:
Only 2% are angry that Santorum got out (I think I know them all personally) and over 2/3rds are relieved or satisfied.  From YouGov: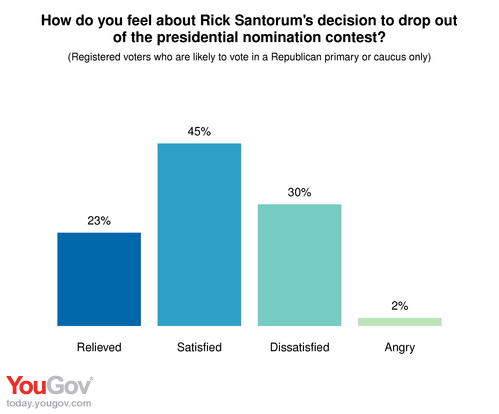 Even AFTER Santorum dropping out – nearly 1/2 STILL want Ron Paul and Newt Gingrich to stay in: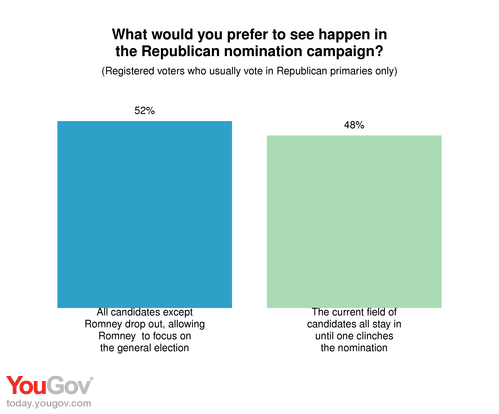 Justin points out this almost identical to the popular vote totals in the primary.  In reality, combining delegates from Santorum and other fall outs, Gingrich is still MORE than in the race.  A terrible miscue by Romney or a rally by conservatives who tell the GOP to go to hell would still send this to a brokered convention.
Who is with me?
We aren't giving up until the Republican Party has formally announced the final delegate count and authenticated the birth certificate of the nominee.
The half hour show here: